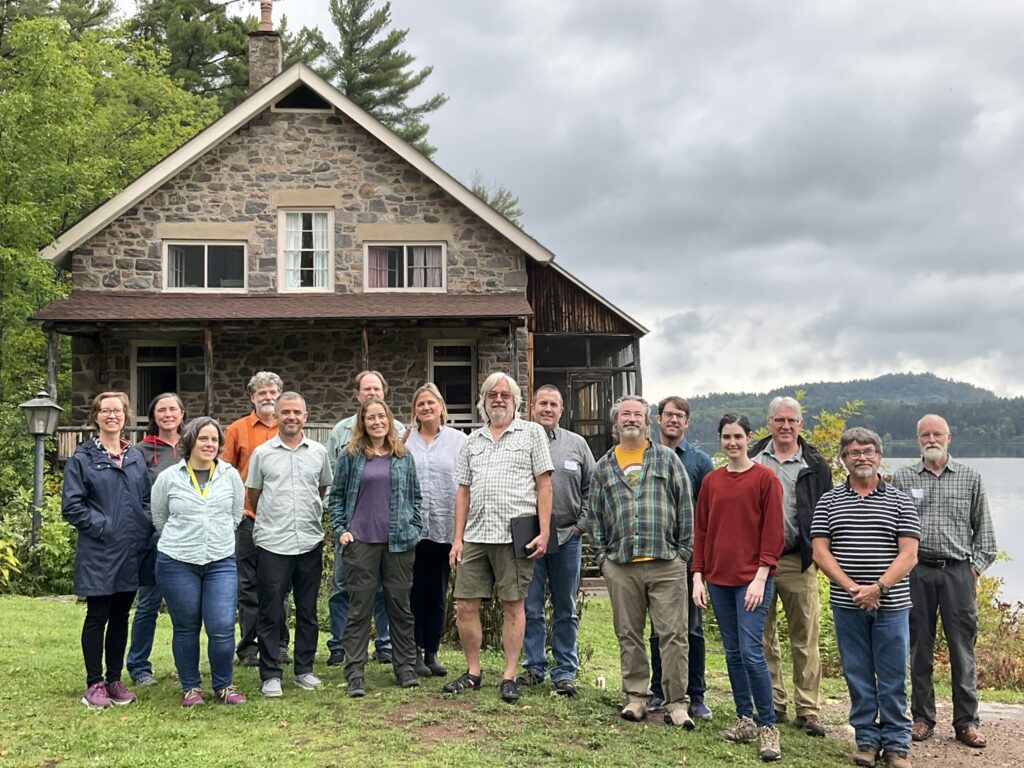 What better way to spend a mid-September weekend than with fifteen field scientists (and several guests from the Foundation's Board) on the shores of Ives Lake and exploring research sites in the Huron Mountains? Despite last-minute covid-related reorganization — a fact of life for any kind of gathering these days — there was a full house for several sessions of research presentations and two afternoons of field-trips.
This was a first for the Ives Lake Field Station and HMWF. The small, workshop-style conference had two main objectives. One major goal was forging connections among HMWF-sponsored researchers and generating mutual familiarity with research projects. Ives Lake hosts around 25 research teams each season, and most of the conference participants have made multiple visits over a decade or more. However, individual researchers may be unfamiliar with each others' projects. Investigators come from many institutions and are typically resident for only a week or two during the field season. Consequently, many opportunities for collaboration, sharing of research results and data-sets, and potential for emergent integrative work are likely to be missed. We hope that a collegial weekend of intensive 'cross-pollination' of ideas and research results will catalyze new initiatives.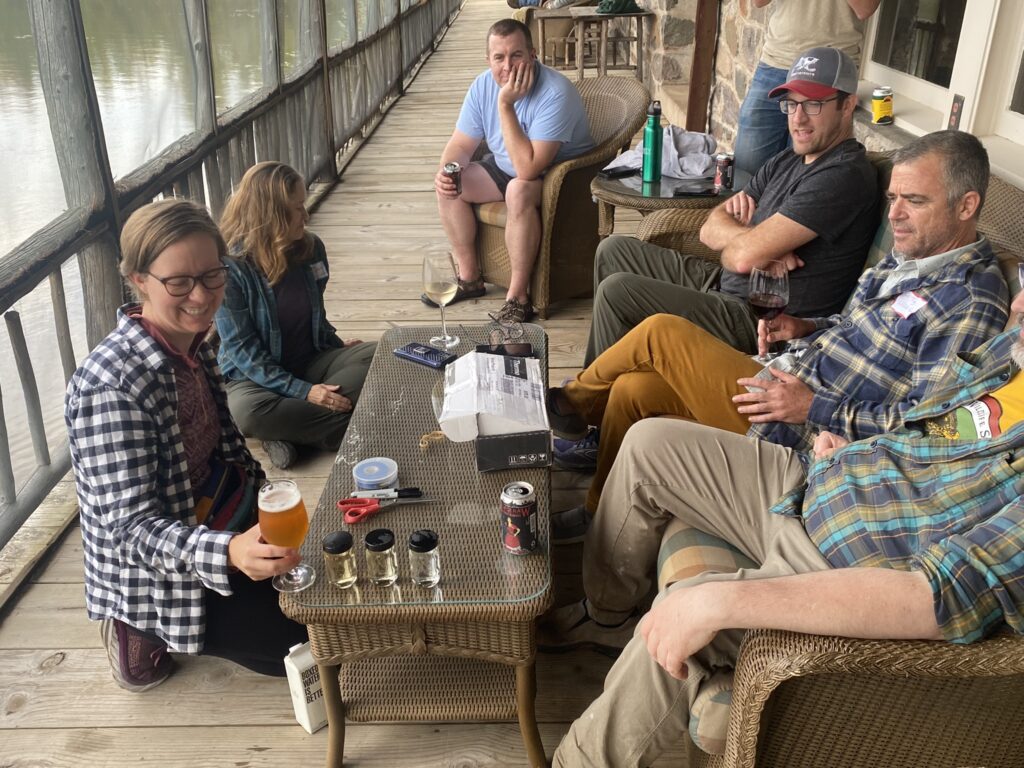 As an overlapping second objective, we hoped to raise awareness of HMWF's program among 'sister' field-stations and research organizations of the Upper Great Lakes region and, potentially, foster future networking. In addition to HMWF researchers from an array of research facilities and institutions, invited guests from several other regional research facilities participated in the weekend conference.
The large living room of the Thorpe House (formerly the 'Red House') was a congenial facility for (more or less) organized sessions of research presentations. Work-rooms at the Stone House made an elegant dining venue, and the Stone House porch overlooking Ives Lake was ideal for informal discussion and brainstorming before and after dinner.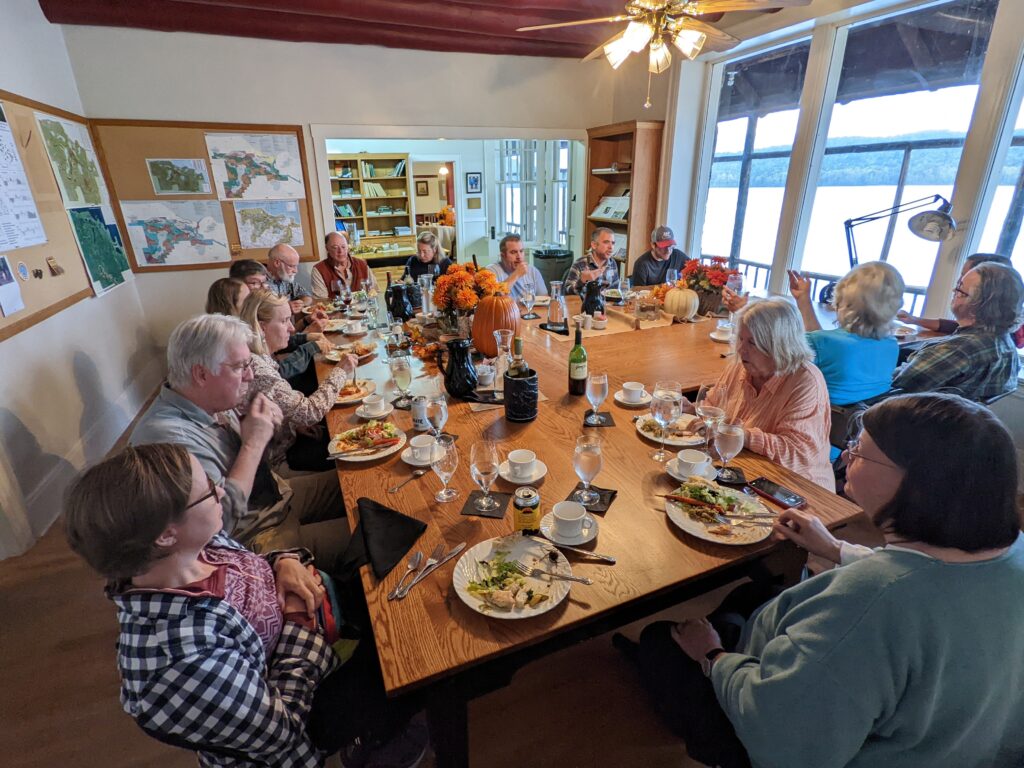 But field-site visits are always a high point when field-based researchers get together. We always feel closer to the heart of the science when talking about the research problems and findings in the midst of the system being studied. Groups of conference attendees managed outings to study sites along the Salmon Trout River, where several participant projects address questions ranging from population biology to ecosystem function; to old-gssrowth forests hosting some of the longest-term permanent-plot studies of forest dynamics in eastern North America; to Canyon Lake where researchers focus on biogeochemistry of this unique meromictic lake; to a decade-old large deer exclosure; and to long-term study sites focused on the population dynamics of white pine in old-growth forests.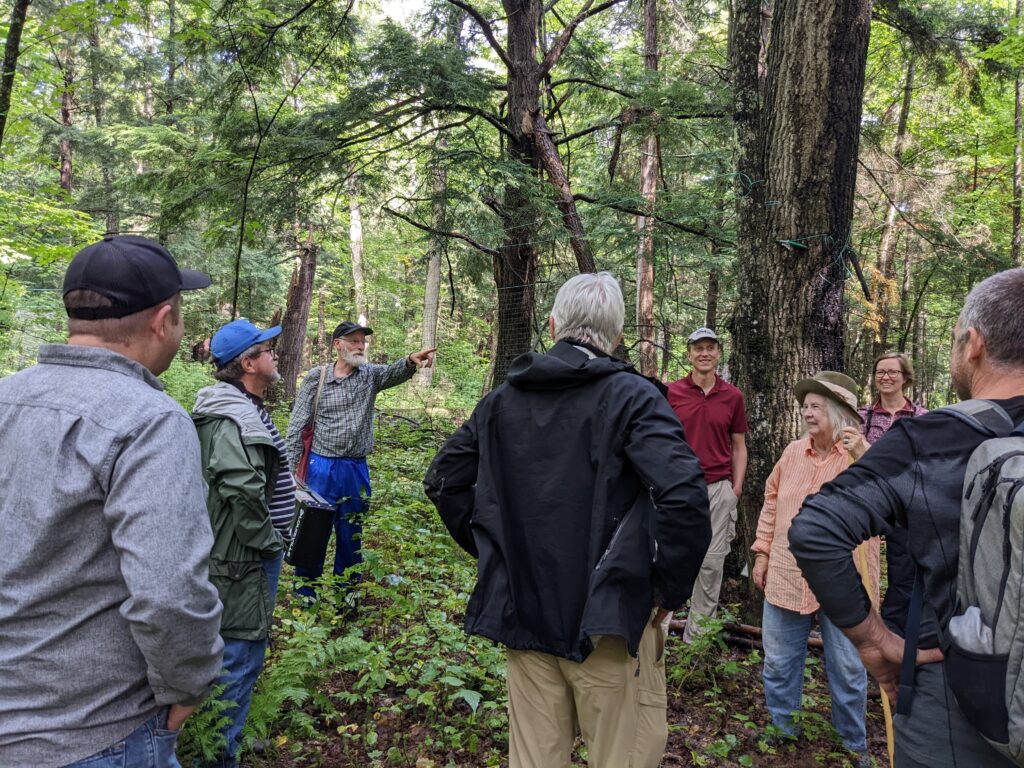 The 'First Ives Lake Research Conference' focused on long-term studies in terrestrial and aquatic systems of the Huron Mountains. Discussions are already afoot for planning the Second Ives Lake Research Conference, perhaps in 2024. Potential themes include biodiversity studies in pristine landscapes, research value of 'reference ecosystems', paleoecological and dendrochronological studies, or…..? (And perhaps we'll have a chance to hear from researchers who were detained by covid this year.)