This list includes all HMWF-sponsored research projects active during the 2022 field season. Over half are continuing, multi-year projects, several of which build on data-sets from earlier projects.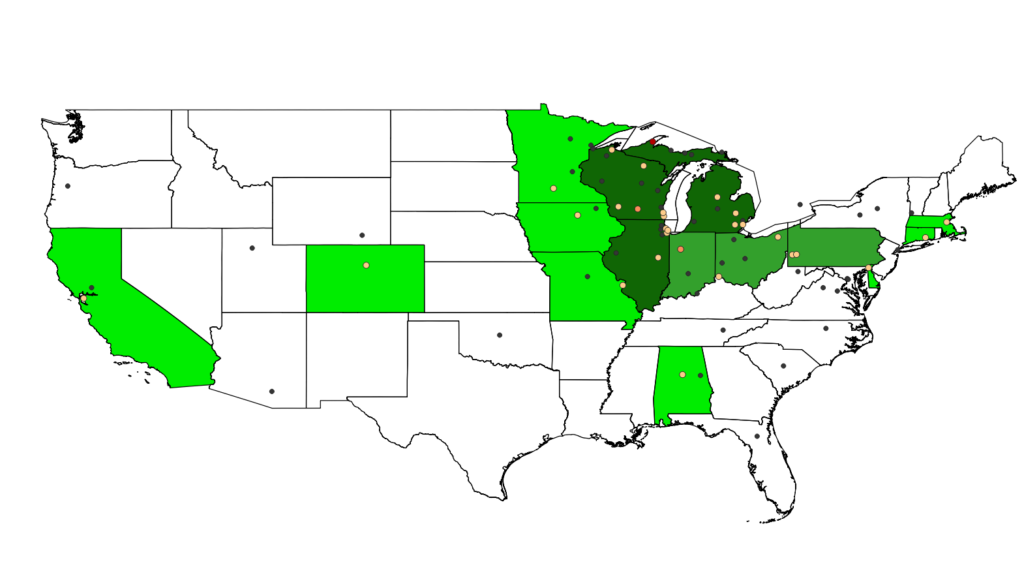 HMWF-sponsored projects for the 2022 field season:
Tara Bal (Michigan Technological University), Evaluating Exotic Earthworm Impact on Maple Health and Sugar Content across Invasion Gradients.
Julia Burton (Michigan Technological University), Pushing the limits: role of functional and structural complexity in determining upper limits of carbon storage and sequestration in cool-temperate old growth forest ecosystems.
Walter Caron and Rose-Marie Muzika (University of Pittsburgh, Carnegie Museums), Can geologic refugia serve as source pools to help restore biodiversity: battling the ghost of herbivory past.
Xiaoyong Chen and Mary Carrington (Governors State University, Illinois), Influence of invasive earthworms on soil structure and function in forests of the Huron Mountains, Michigan.
Sarah Shainker Connelly and Stacy Krueger-Hadfield (University of Alabama-Birmingham), Incorporating the ecology and evolution of haploid-diploid life cycles into biodiversity surveys of freshwater red algae.
David Costello, (Kent State University), Beyond N and P: How trace metal limitation influences stream ecosystem function.
Heather Dawson (University of Michigan-Flint), Use of fish biomarkers in urban vs. reference river systems in Michigan as a proxy of river health,
Susan Fawcett (University of California – Berkeley), Investigating the affinities of Dryopteris expansa in the Great Lakes Region,
Patrick Gorring, (Michigan State University), Continuing surveys of curculionid and other phytophagous beetle diversity.
Ken Hinkel and Fritz Nelson, (Michigan State University, Northern Michigan Univ.) Continuing Research: The Huron Mountain Climate Observation Network.
David Houghton, (Hillsdale College), The aquatic insects of Canyon Lake and Mink Run,
Casey Huckins, (Michigan Technological Univesity), Continuing studies of sediment movement and fish populations in the Salmon Trout River.
Jason Karakehian, (Illinois Natural History Survey). Biodiversity surveys of cup- and microfungi (Ascomycota).
Donna Kashian (Wayne State University). Long-term monitoring of macroinvertebrates and water quality in streams of northern Marquette County.
Susan Knight (University of Wisconsin, Center for Limnology). Continued aquatic plant communities of the Huron Mountain Club.
Jalene LaMontagne (DePaul University) Continued studies of mast-seeding dynamics in the southern range of boreal forest conifers.
Evan Larson, Daniel Cziczo, & Rose-Marie Muzika (Univ. of Wisconsin-Platteville, Purdue University, Carnegie Museums). Approaching a climate and precipitation paleoclimatology for the Huron Mountain Club and Upper Great Lakes Region.
Karen Murchie (Shedd Aquarium). Monitoring of fish migration timing and cues in Great Lakes tributaries.
Dennis Riege (independent researcher) Dynamics in late-successional white pine-hardwood forests of the Huron Mountain, and Effects of beaver cutting on vegetation in a Fisher Creek permanent plot
Ryne Rutherford and David Flaspohler (Michigan Technological University), Ecological factors that dictate the occurrence of southern disjunct biota Isolated on granite bedrock glades
Elizabeth Swanner and Chad Wittkop (Iowa State University, Minnesota State Univ.-Mankato), Microbial pathways of iron and methane cycling in ferruginous Canyon Lake.
Cody Thompson (University of Michigan, Museum of Zoology). ,Assessing hybridization in flying squirrels (Glaucomys) of the Huron Mountains,
Steve Voelker (Michigan Technological University). Submerged log surveys and increment core collection from lakes at the Huron Mountain Club for reconstructions of winter by tree-ring analysis.
Donald Waller, Dennis Riege, Sarah Johnson, Jill Witt, (University of Wisconsin, independent, Northland College, University of Michigan-Flint). Impacts of white-tailed deer on forest communities, monitored using large exclosure experiments.
Thomas Werner. (Michigan Technological University). Long-term diversity monitoring and assessment of distribution shifts in Drosophilids and Lepidopterans.